The Story of the Lucky Green Ladies
The Lucky Green Ladies, a convenient, fast cannabis delivery service in Boston, was founded by Alissa Nowak, an experienced cannabis salesperson and certified social equity participant. Her life story is what led to the foundation of the Lucky Green Ladies Cannabis Company. Keep reading to learn more about Alissa's history and the foundation of her innovative dispensary on wheels!
Alissa's Story
Challenging Teenage Years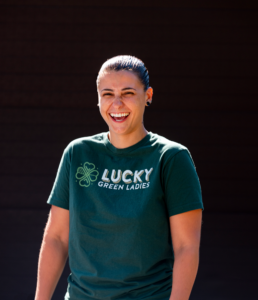 Alissa's teen years were foundational for the creation of Lucky Green Ladies. In 2013, Alissa was kicked out of high school in the middle of her senior year for selling cannabis to her friends. But, this was just the beginning of her cannabis and sales journey.
After being expelled, Alissa's mental health plummeted. She had to transfer to a new school where she knew no one in the middle of her senior year. It was next to impossible to make friends since everyone already had established relationships and life-long friendships. As her mental health declined, her anxiety and depression worsened, so she was prescribed Xanax.
However, the Xanax prescribed by the doctor was not enough. She turned to buying Xanax off the street so she could get a higher dosage that would lessen her anxiety and depression. To Alissa, this was necessary–a medication recommended by a doctor to improve her mental health. Without realizing it, she became addicted.
In June of 2014, her life changed forever. Alissa received a felony charge for drug possession of Xanax. On the way to the police station, she became unconscious in the back of the car and had to be rushed to the hospital. She wound up with two years of probation and an additional year after consistently testing positive for cannabis. It was here that Alissa realized the benefits of cannabis.
Learning How Cannabis Can Help

Alissa's first step, after realizing how much cannabis helped her, was to obtain a medical marijuana card. At the time, it was difficult to get a medical marijuana license in New Jersey. She had to drive an hour and a half to find a doctor that would prescribe her the medical marijuana card. Each visit cost $300 out of pocket. With registration fees, doctor visits, and gas mileage, she spent more than $1,000 just to obtain a medical marijuana card so she could get the help she needed. Making it through the day was expensive but it was legal.
Alissa's experience echoes many other cannabis users managing the challenges of daily life and mental health. Many everyday people use cannabis medicinally and recreationally. It is reported by consumers that cannabis may be able to help calm anxiety and soothe stress, provide a mood boost, help with focus, and assist with sleep. Alissa could not help but wonder why does the United States continue to criminalize such a natural alternative to addictive pharmaceuticals?
After obtaining her medical marijuana prescription, Alissa finally finished probation in 2017. It was at this time that she decided to move to Massachusetts, where cannabis was legal recreationally and medically. Relocating meant Alissa could be free and comfortable enjoying cannabis.
Alissa worked as a store manager at Dunkin Donuts for quite some time. When she realized how successful she was as a manager, she was inspired to change her Master's major from Industrial/Organizational Psychology to Business Administration with the hopes that she could manage her own company. She was excited about what the future had in store for her.
However, things took a turn for the worse. Alissa's long-term relationship ended soon after she purchased a house. Unable to afford the mortgage on her own, she scrambled to find the money for it. She ultimately decided to enter the cannabis Legacy Market, the unregulated side of cannabis sales. She found much success, first starting small but quickly operating a successful dispensary delivery business and trade shows.
Her whole life changed once again soon after her business boomed–she was arrested for illegally distributing cannabis in 2019.
Unexpected Benefits
Alissa's arrest was a blessing in disguise. Her arrest helped her get into the Social Equity Program, a program designed for those like her with pre-existing drug and felony charges. It allows members to own their own business, participate in industries like the cannabis industry, and live normal lives. The Social Equity Program gave her the confidence that she needed to believe in herself and her ability to operate her own company, a marijuana dispensary delivery service.
With the help of the Social Equity Program, Alissa left the Legacy Market and was able to restart her life, pursuing the creation of her own cannabis sale business so that she could provide others with cannabis. Her passion about the benefits of cannabis and her sincere care about customer satisfaction quickly helped her company gain popularity. Equipped with an MBA and valuable experience, Alissa officially launched Lucky Green Ladies in 2020.
Behind the Lucky Green Ladies
The Lucky Green Ladies truly started all the way back in high school when Alissa first started selling cannabis. After difficulty with mental health, her exploration in the benefits of cannabis, her drug charges, and her experience in the Legacy Market, Alissa was inspired to create a cannabis delivery service that would make it easy and convenient for customers to purchase cannabis so they could freely use it recreationally and medicinally.
The name Lucky Green Ladies comes from Alissa's experience of almost being unable to open a cannabis shop due to her previous drug charges. Without the Social Equity Program, she never would have been able to live the life she loves. She is lucky to be in the position she is in since many other individuals with her experiences cannot open a business, especially in the cannabis industry. Through the Lucky Green Ladies, Alissa continues to do her part in social equity and inclusion, mentoring those new to the cannabis industry, supporting social equity businesses, and providing very valuable education.
Support the Lucky Green Ladies Cannabis Company
Alissa Nowak's Lucky Green Ladies is an equitable, convenient, fast marijuana delivery company. When you buy from their cannabis company, you can know that you are supporting a great business and receiving top-notch cannabis strains. Visit the website today!