What to Expect with Cannabis Delivery
There's a new way to get your cannabis: cannabis delivery. Lucky Green Ladies, a Boston-area cannabis company, has created an innovative, affordable way for you to purchase cannabis. Their delivery service will get your cannabis order to your door in as little as 1-2 hours. Keep reading to learn more about what you can expect when you order cannabis via delivery.
The Better Way to Purchase Cannabis
Are you used to having to drive to purchase your cannabis at a dispensary? This process can take a long time: driving to the site, waiting in line, purchasing the cannabis, and driving back home. Purchasing from a dispensary takes a lot of effort and time out of your day. Dispensary delivery on the other hand, or ordering cannabis online and getting it delivered right to your doorstep, streamlines the process.
Cannabis delivery shortens the time it takes to order and receive your cannabis and makes the process much more convenient. Ordering cannabis online is like other forms of online shopping, such as ordering from Amazon or other online store deliveries. You can do the entire process without ever having to leave the comfort of your own home.
Lucky Green Ladies' dispensary on wheels is simple and convenient. You will easily be able to understand how to work the ordering platform. They have everything that you would need and want out of a dispensary delivery for cannabis:
They are Discreet: All packages are unmarked and deliveries are made in an unmarked van staffed by professionals.
It's Quick: Deliveries can be made in as little as 1-2 hours using the Express Delivery option.
You Have Many Options: Because Lucky Green Ladies is an online service, you may think that they have fewer options than your local dispensary. However, it is the opposite. Be sure to browse their online menu to see the multitude of available indica, sativa, and hybrid strains such as the Norton cannabis strain and hand-curated products.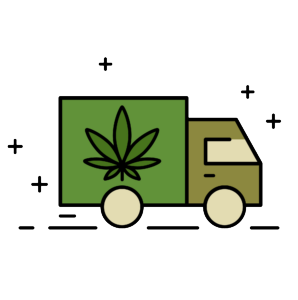 A Quick and Convenient Ordering and Cannabis Delivery Process
Lucky Green Ladies makes ordering cannabis online as uncomplicated and convenient as possible. To get started ordering your cannabis, visit the menu on their website, where you can browse from a wide selection of strains and hand-picked, curated products. This includes almost any strain that you would be interested in, including the popular Norton cannabis strain, as well as other carefully curated products.
Next, place your order. Ordering on other websites can be tedious, with multiple steps that over complicate the process and take a long time. Lucky Green Ladies' site, however, is straightforward. Ordering your cannabis will only take a few minutes. You even have the option to schedule ahead of time or order it as soon as possible.
Payment can be completed at the time of ordering or when the cannabis is delivered to your doorstep. You can choose between regular delivery, which will have your cannabis delivered in 3-5 hours and has no delivery charge, or express delivery for an extra $7 fee, which will guarantee your cannabis delivery within 1-2 hours. It is important to also check your delivery zone to see what your minimum is for delivery service. Delivery minimums range from $35-$100 depending on your location in Bristol County, the Greater Boston Area, or the city of Boston.
When your delivery arrives, the driver will be in an unmarked, discreet van to ease any worries you may have about your delivery. Your packaging is also always unmarked. If you have not paid for your order, you will complete your payment at this time. If you are happy with the ease and efficiency of the delivery, you can join the Lucky Green Lady subscription program to have your supply re-upped at a convenient interval.
Lucky Green Ladies offers returns and refunds if you are unsatisfied with your delivery. If you are unhappy, you can contact the Lucky Green Ladies team to get help with your order. Lucky Green Ladies also rewards points for returning your empty cannabis jar. They will clean the jar for you and use it for future cannabis orders. Their company is dedicated to being eco-friendly, so when you contribute to keeping the environment clean, you get rewarded and earn points for later use.
Areas Covered by Dispensary on Wheels
Lucky Green Ladies have made it their mission to deliver to as many places as possible in Boston. Currently, they offer delivery in three main locations: the Greater Boston Area, Bristol County, and the city of Boston itself. There are some restrictions in those areas since certain municipalities have banned the sale of cannabis. Check your delivery zone to see if Lucky Green Ladies can deliver to you and what your delivery minimum is.
Delivery service is not just for in-state residents or traditional houses. Apartment complexes, Airbnb's, condominiums, and other locations can receive deliveries from Lucky Green Ladies' dispensary on wheels. If you are an out-of-state resident who is visiting the area, you can even order your cannabis to be delivered to the location at which you are staying!
A 100% Legal Ordering and Delivery Process
Cannabis delivery from Lucky Green Ladies is 100% legal if your municipality has not banned the sale of cannabis. The founder of Lucky Green Ladies, Alissa Nowak, is well-versed in regulations and compliance. Please do not hesitate to ask questions about dispensary delivery ahead of your order. Alissa has been working in the cannabis industry with direct Legacy Market experience from before the sale of recreational marijuana was legal in Massachusetts.
If you are 21+ with a valid ID and reside in a municipality that approves the sale of recreational cannabis, you can purchase a cannabis order for dispensary delivery 100% legally!
Order Your Convenient Cannabis Today
The online cannabis ordering and delivery process are convenient, easy, and quick. With the cannabis on wheels service, you do not have to worry about leaving your home, dealing with long lines, or the inconvenient purchasing process. Visit Lucky Green Ladies' site today and schedule your very first delivery!